Connect To The Top-Notch Crypto Algo Trading Platform!

SpeedBot ensures optimal performance by providing comprehensive connectivity across the global crypto market and carrying out complete management of crypto assets from start to finish.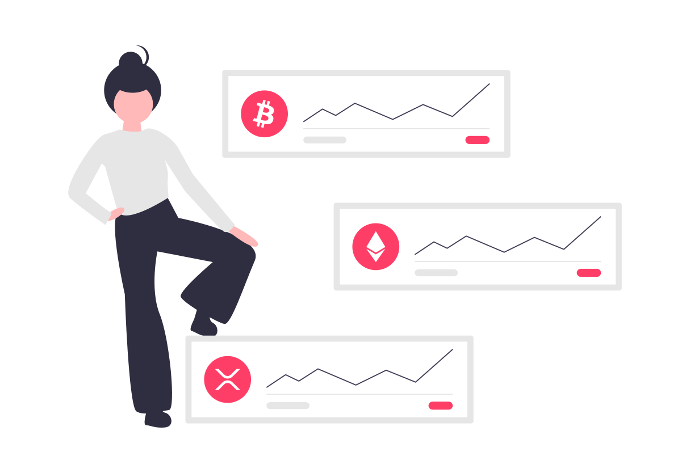 Crypto Algo Trading Services
Crypto trading services algorithms enable routine Crypto stock trading tasks to be automated, such as executing large orders broken into smaller pieces. The crypto algo trading app like SpeedBot provide the setting instructions with dynamic pricing, utilizing technical analysis, dividing algorithms, and other criteria to determine how to execute orders without human intraction.



SpeedBot platform offers a comprehensive algorithmic trading setup for Crypto Currencies, from crafting trade signals to placing orders. Customers can design any Crypto trading algorithm through the integrated development

environment in SpeedBot or rely on Wyden's professionals to develop crypto trading strategies.

Just connect your Binance, Bybit, Bitget and many other crypto exchange accounts with SpeedBot and Get Started with Crypto Algo Trading.
Best Features To Start Crpyto Algo Trading
Cryptocurrency trading has become increasingly popular as more individuals seek to invest in this type of digital asset class. To ensure a successful trading experience, many turn to crypto trading bots for assistance. The automated crypto algo trading platform rely on algorithms to observe market trends and execute trades for the user. Here are some of the features Crypto Algo Trading.
Customized Strategies
A crypto trading bot has the flexibility to customize trading tactics. Investors can select pre-constructed plans or generate their unique projects. It permits them to tailor their trading method to their personalized ambitions and risk exposure. Modifiable Crypto trading strategies can include transaction entrance and exit points, take revenue, stop loss levels, and position sizing.

Multi-Exchange Assistance
The best crypto trading algorithm features ultimate compatibility with multiple exchanges. It can be helpful for traders because it allows them to trade on different exchanges from one platform without frequently switching between exchange accounts. Additionally, having multiple exchange support may benefit those looking to take advantage of price variations between exchanges.

Automation
A crypto algo trading bot can greatly assist busy traders by automating trading operations. It allows 24/7 trading, allowing traders to capitalize on market fluctuations even when not actively engaging. Set parameters, such as price changes, technical indicators, and news, can enable these bots to execute trades without emotion. Consequently, automated trading eliminates a great deal of the emotion generally associated with Crypto trading.

Additionally, we are not just compatible with retail traders who don't have coding backgrounds; but also useful for professional programmers who can use the API to their advantage. It is an excellent way for new traders to learn something new and try out different strategies and generate a good source of income.

Write To Us!
About Your Crypto Algo Trading Needs
SpeedBot is a computerized crypto-algo trading platform that is designed to streamline the crypto-trading process and provide traders of every skill level with 24/7 access to maximization of profits and minimized risk of losses.


SpeedBot Solutions for Crypto Algo Trading


Social Trading
Connect to the best social trading platform with pro services.


Trailing Orders
Simple purchasing and selling options.


DCA
Real time access for suggesting the best purchases.

AI Trading
Advanced AI technology to improve the trading experience.


Strategy Designer
Access to create the trading algorithms according to the requirements.


Backtesting
Real-time back testing for seamless functions.


Pro Tools
Efficient integrated tools for crypto algo trading.


Trading Terminal
Single window platform to manage your trading process easily.


Exchanges
Exposure to top-class trading marketplaces.


Paper Trading
Best trading simulation with simultaneous testing.


Faster Execution
SpeedBot ensures ultra-fast execution of trades.

User Friendly
Intuitive & user-friendly interface, making it accessible to all.

Start Crypto Trading with SpeedBot now!
We are revolutionising institutional crypto algo trading by providing a comprehensive infrastructure that links all stages of the algo trading process for all manner of digital assets.

FAQ For Crypto Algo Trading Service

What we can do, for you
Submit Your Strategy Requirements
We provide a way to simplify your most difficult crypto algo trading strategy and make it possible to be both automated and backtested
Get the Backtested Results
If you are looking for a fast and efficient way to automate your crypto algo trading ideas, our SpeedBot Technical Analysts are here to help!
Algo Development Team converts every single Rules to Automation
Our team of experts can not only automate your crypto algo trades, but also provide added value with their knowledge and expertise, making your trading experience seamless and stress-free. Submit your information below to get in touch with us and start enjoying the advantages of automated trading today.
Note: The algorithms for crypto trading bots available through the Marketplace are created and distributed by Publishers. SpeedBot and its personnel do not recommend or advise investors to use algo trading with crypto trading bots. Additionally, neither SpeedBot as a best crypto algo trading platform nor its personnel shall be held liable for incorrect Orders that relate to wrongly linked strategies or inappropriate setups carried out by the Creator.

I have been using the Speedbot Algo Trading App for more than a year now. I was impressed with the user interface and ease of trading and creating options strategies without any coding. The platform has helped me to backtest different strategies and save a lot of time as bots work for me. SpeedBot is highly recommended to anyone looking for a convenient and effective way to invest.
SpeedBot provides a user-friendly interface and the most advanced Algo Trading features. Create Option strategies and backtest option strategies with accuracy and efficiency. With its economical pricing and technical accuracy, Speedbot is definitely a must-try for traders seeking a reliable and profitable Algo Trading Platform.
SpeedBot is an excellent Algo trading platform to automate options trading. Features like create and backtest options strategies allow to create and backtest strategies with utmost accuracy. Till now SpeedBot has provided 100% accuracy and had saved a lot of time for me. Also, their support team is excellent and helped me with all the queries. Overall, I am highly satisfied with SpeedBot
Highly recommends Speedbot for its flexibility in options trading and options strategy creation. The platform's advanced algorithms can maximize returns, making investment effortless—an excellent Algo Trading Platform for all types of traders.