Your Personal Algo Trading App/Software


Automated Trading
Automate your highly sophisticated trading strategies so you can focus on business while the bot makes you money.
Trading Made Easy & Simple
You define the strategy, set margins, and start it running. That's it. No coding is required, and no experience is needed with SpeedBot algo trading software.
Download Mobile App & Start a Free Trial



Become a Part of
SpeedBot Dealer Partner Network
Redefine your Trading with AI-Driven Algo Trading Bots
SpeedBot an Algorithmic Trading Platform will help you make fortunes in the stock market without direct knowledge of stocks, options, futures, and other markets. It's like having a financial analyst on your computer... but better.

Link to Your Favourite Stock Broker
Trade in any market from anywhere with a wide range of supported Demat Account Brokers.
Watch Video
Maximize Earnings & Simplify Your Trading Procedures Using Our Robust Algorithmic Trading App Designed for Brokers, Sub-Brokers, Institutional Traders.

Pre-Built Options Strategies Templates
Access multiple trading options that help you get maximum returns on your investment. The Ready-made Options Trading bots Templates are designed to act upon the movement of market trends, providing users with a hassle-free experience and assured profits.
Explore Options Strategy Templates
Create Options Trading Strategies
Want Custom Algo Strategy Development?
Reach out to us if you have your own Options Strategy to develop and deploy in live trading.

Drop a Request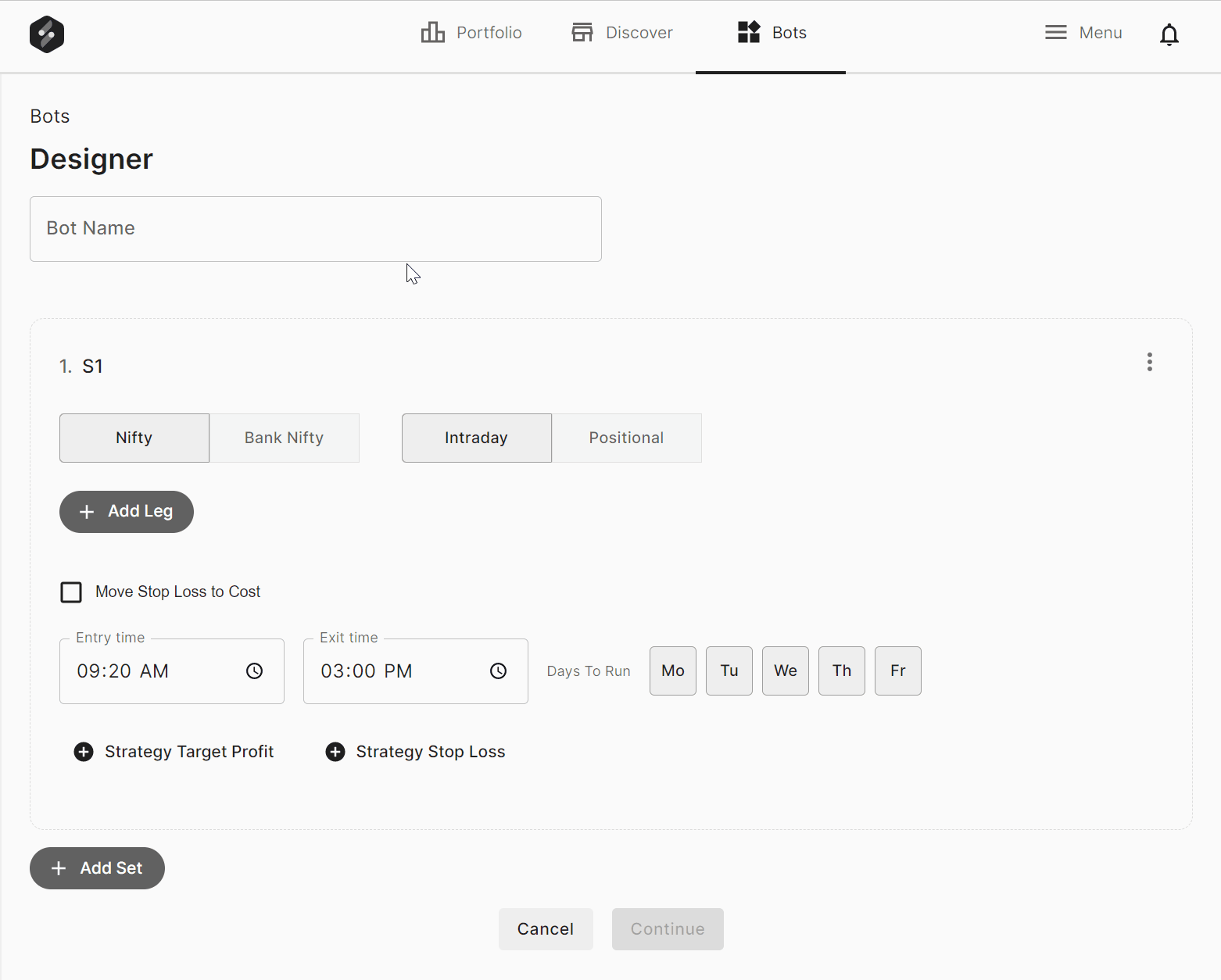 Trade From Anywhere


YOUR PERSONNEL TRADING ANALYSIS APP - Web & Mobile Apps
SpeedBot is one of the best algo trading app in India which runs on a sophisticated and secure cloud infrastructure and can be connected from anywhere using Web and Mobile Apps.
Connect SpeedBot to Your Existing Broker
SpeedBot comes with built-in integrations with all the major Indian brokers.
For US Stock Market, Tradier can be integrated. Connect with us to integrate the Tradier account and start trading in US Stock Exchange.


Trade on Major Exchanges: NSE, BSE, NYSE, NASDAQ


Looking for Algo Trading in US NYSE or Nasdaq?
SpeedBot Supports major US Brokers Interactive Brokers, TD Ameritrade, Trade station, Robinhood, etc..
SpeedBot is For You, If You Are...
Trade Guru
Are you an Expert Trade Analyst? Have some strategies to test and trade automatically with?
Validate your sophisticated strategy by drafting it with our "No Code" Bot builder and backtesting it on the engine to get an extensive report of cases based on the purified historical data.
Amateur Trader
Do not know any trading strategies?
No worries, hire a trading bot built by the trade guru on our marketplace and let it trade for you.
Validate the strategy by a trading expert on our test engine and GO LIVE with the bot to automate the trading to skip the manual trading and expect Profit.
Day-Trader and Investors
Have been trading for years now? Already have some strategies and want to check their efficiency?
Inherit your current strategies into a bot and use Backtesting Engine for its precise analytical reports. Compare various strategies and choose the most efficient one and automate trading with the Trade Bot. Set the exit and entry regulations to cease the loss.
Future and Options Trader
If you are a regular discretionary Trader, SpeedBot is for you to make your Trading process systematic and Automated. Create your own Trading Systems with SpeedBot Bot Builder.


SpeedBots new Technical Algorithmic Trading's Do it yourself (DIY) Approach!

Explore SpeedBot Options Auto Trading
Working Professional
Are you a super busy Individual Professional?
Don't give up your day job, you can still trade without diversifying your energy. You don't have to be a financial expert!
Let the bot work for you while you work on your main Hustle.
Explore Algo Trading Courses
And Automate your Trading with SpeedBot
RoboTrading - No More Limited to Big Financial Players. So What are you waiting for?
After a quick sign-up on SpeedBot, it takes you to browse the well-performing TradeBots to subscribe to.
1. Browse SpeedBot MarketPlace Algo Templates
Browse through the Bots, categorized based on your Investment Style. Get a detailed report & Analyse the Trade Bot's performance criteria and Compare.
2. Analyse Backtest Reports
With a quick glance at the accurate and intuitive backtest Reports, your decision towards choosing & subscribing to the SpeedBots to your account. Refer Help Guide Explaining Back-Test Reports .
3. Subscribe The Trade Bot To Your Account
Once you subscribed to the Bot linking your Broker account or Paper Test, - Sit Back and Relax!
SpeedBot will do the rest.


About SpeedBot Algo Trading Bots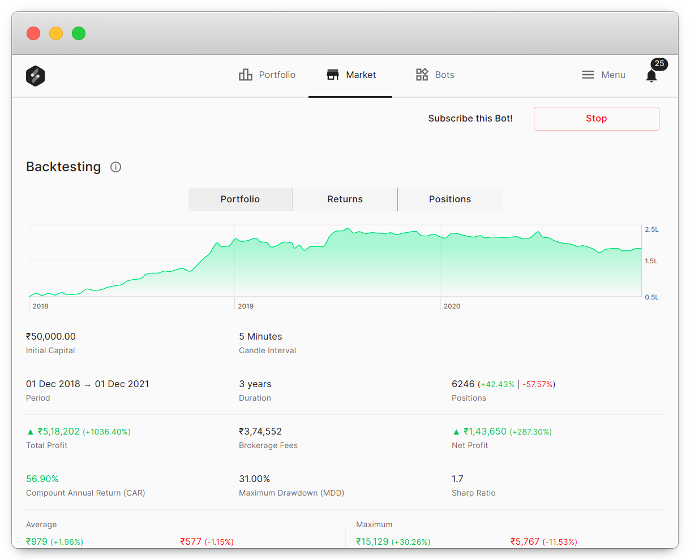 Backtest Reports
Key Statistics
Each listed SpeedBot in Marketplace has real-time Analysis Reports with all the key statistical indicators describing the overall performance of the Bot in the live market historically.
Cumulative Returns
The overall graphical report shows the cumulative returns over the sample portfolio.
Monthly & Annual Returns
Heatmap chart showing month-on-month profitability. And the Annual return comparison statistics.

Learn More | Backtest Reports
Be a SpeedBot Partner
Grow your Business.
For Options Trading Advisors / Sub-broking business / Research Institute.
Provide Absolute Cutting Edge Algo Trading Technology to your Customers.
I have been using the Speedbot Algo Trading App for more than a year now. I was impressed with the user interface and ease of trading and creating options strategies without any coding. The platform has helped me to backtest different strategies and save a lot of time as bots work for me. SpeedBot is highly recommended to anyone looking for a convenient and effective way to invest.
SpeedBot provides a user-friendly interface and the most advanced Algo Trading features. Create Option strategies and backtest option strategies with accuracy and efficiency. With its economical pricing and technical accuracy, Speedbot is definitely a must-try for traders seeking a reliable and profitable Algo Trading Platform.
SpeedBot is an excellent Algo trading platform to automate options trading. Features like create and backtest options strategies allow to create and backtest strategies with utmost accuracy. Till now SpeedBot has provided 100% accuracy and had saved a lot of time for me. Also, their support team is excellent and helped me with all the queries. Overall, I am highly satisfied with SpeedBot
Highly recommends Speedbot for its flexibility in options trading and options strategy creation. The platform's advanced algorithms can maximize returns, making investment effortless—an excellent Algo Trading Platform for all types of traders.
One Platform. Everything Included.
Website & Web App Content Disclaimer: The Strategic Trade Bots related Information in the Discover, Templates and Other Learning Content Sections are either created for the Mathematical Analysis and learning approach for Quantitative Analysis on the Historical Data of various Stocks and Derivative Market Data or published by the respective Publishers declared respectively with the content with the only intention of Education. The user should not consider it as an Investment advised by SpeedBot or its employee. Also, SpeedBot or its employee is not liable for the Wrong Order placement of the strategy due to the false integration/setup of the Broker or Strategy by the Creator.