India's Leading
Options Trading Platform
---
Options Trading made more accessible than ever before. Use our AI-mastered options trading bot or create one for yourself in less than a minute.
Previous
Next
Best Options Algo Trading App


SpeedBot has been marked the most preferred Mobile app by so many traders across India. Our platform provides super smooth Integrations with Multiple broker platforms out there, such as Kotak Securities, Zerodha, 5Paisa, and Angel Broking.
We make sure your Trading experience is 100% seamless & You can purely focus on your Strategies without worrying about anything else. One of the main USPs making SpeedBot, the leading options trading app in the market.
Create Your Own Options Algo Trading Strategy!
Backtest your Algo Trading Strategy with the historical Options Chain Data.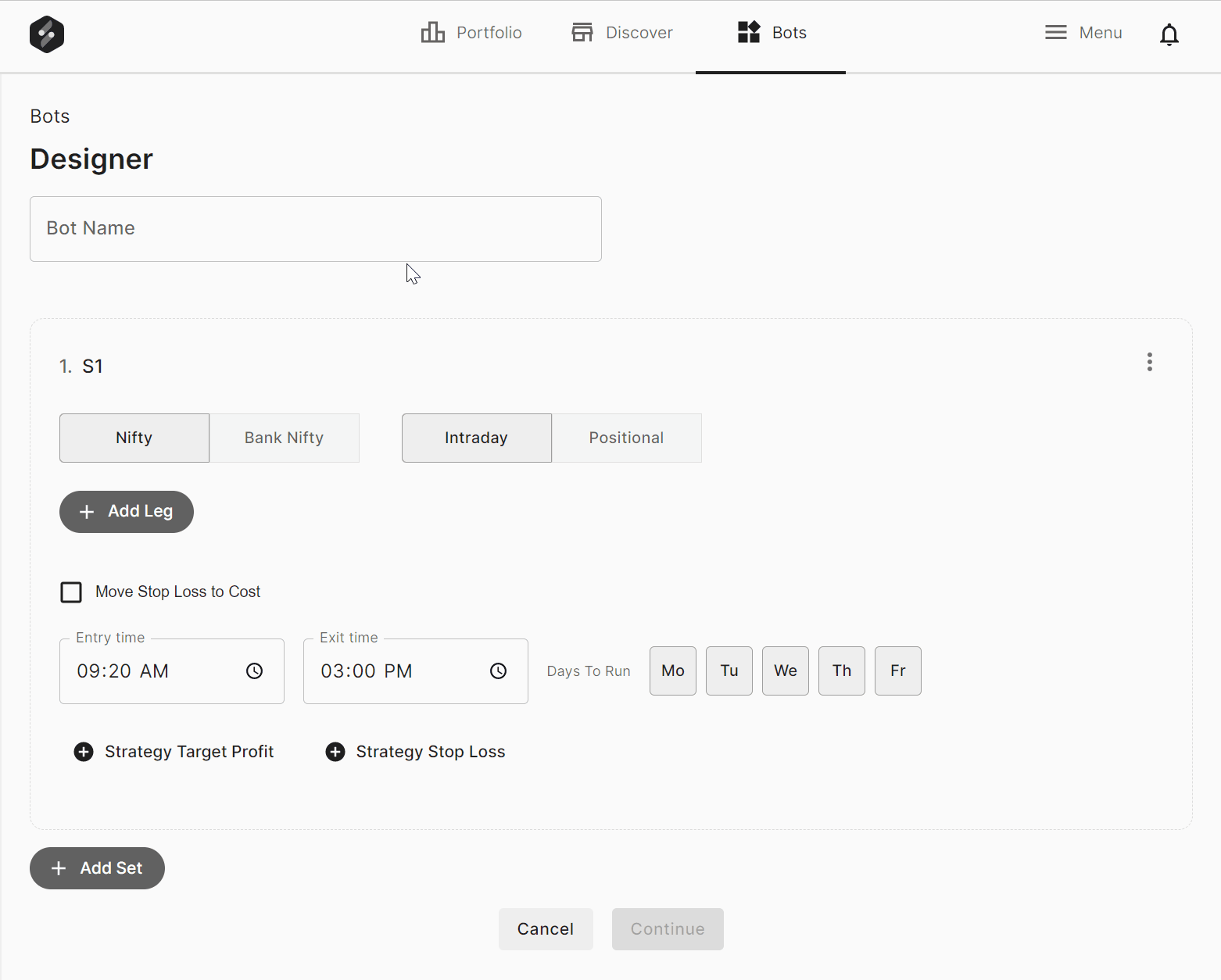 Create Bots in Minutes without Code with Options Bot-Builder

If you want to have your own Personal Bot for Options Trading, SpeedBot has got you covered.



The SpeedBot Creator allows you to create your Personal Options trading bot within seconds. Traders can deeply customize the Bot as per their Trading approach & Strategy. With our Faster Trading Order placing functionality, your trades are in safe hands.



You can leverage the Trading power of your personal bot, even if you have Zero knowledge of coding. Anyone can create a trading bot on our platform with just a few clicks. It's that easy. So what are you waiting for?

Learn Creating Options Algo on Your Own!

Enhance Your Customer Reach and Profitability By Streamlining Your Options Trading Process With our User-Friendly Options Trading App Specifically Designed for B2B Trading.


Ultrafast & Robust Trade Executions

SpeedBot
is becoming the No.1 choice Options trading app. We support multiple leading Brokers (Angel Broking, Kotak Securities, Zerodha, 5Paisa, etc) and Best in class Trading Bots for Options Trading.
There's so much more to it: Learn more about SpeedBot
Options Algo Trading Simplified:



SpeedBot has developed a dedicated Benchmark quality "Options Trading Bots". Discover these bots trained with years of Market data, timeframe-based performances, market trend movements & Lots more.


5 Reasons why SpeedBot's Options Trading Bots are Profitable for you:
Intensely trained with Past years' market data,

Excellent market movement predictions,

Auto Safeguarding from Heavy Losses,

Proven profit maker,

Everything is Instant & Zero delays.

So What Are You Waiting For?
Just click the link & start creating your personal Trading Bot in just a Few Seconds
Discover
Clone the Pre-Built Templates
Create your Options Trading Bots within few Clicks.
Backtest to Validate on Historical Options Data
Quick Backtesting provides the detailed report of the Strategy behaviours with backtested Trade book.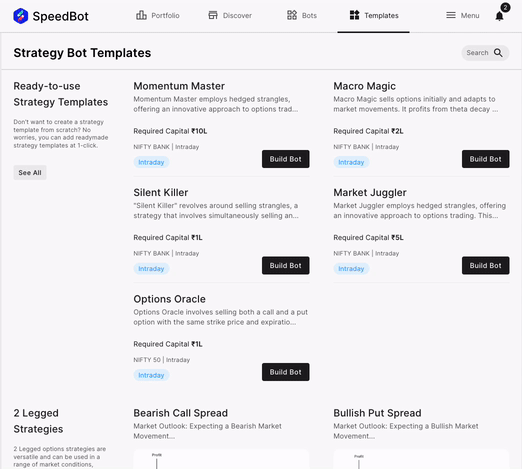 I have been using the Speedbot Algo Trading App for more than a year now. I was impressed with the user interface and ease of trading and creating options strategies without any coding. The platform has helped me to backtest different strategies and save a lot of time as bots work for me. SpeedBot is highly recommended to anyone looking for a convenient and effective way to invest.
SpeedBot provides a user-friendly interface and the most advanced Algo Trading features. Create Option strategies and backtest option strategies with accuracy and efficiency. With its economical pricing and technical accuracy, Speedbot is definitely a must-try for traders seeking a reliable and profitable Algo Trading Platform.
SpeedBot is an excellent Algo trading platform to automate options trading. Features like create and backtest options strategies allow to create and backtest strategies with utmost accuracy. Till now SpeedBot has provided 100% accuracy and had saved a lot of time for me. Also, their support team is excellent and helped me with all the queries. Overall, I am highly satisfied with SpeedBot
Highly recommends Speedbot for its flexibility in options trading and options strategy creation. The platform's advanced algorithms can maximize returns, making investment effortless—an excellent Algo Trading Platform for all types of traders.
Your Most
Complex Options Strategy
can be Automated and Backtested.
Enter your brief details below and reach out to our SpeedBot Technical Analysts
The team of Experts not only get automate your Options Trade Idea but also add value with their Expertise making your Trading experience seamless by Automating all your everyday Trading Juggle.
Disclaimer: The Strategic Trade Bots in the Marketplace are created and published by the respective Publishers. The user should not consider it as an Investment advised by SpeedBot or its employee. Also, SpeedBot or its employee is not liable for the Wrong Order placement of the strategy due to the false integration/setup of the Broker or Strategy by the Creator.