Discover Trading Strategy Bots
---
SpeedBot Marketplace is where Traders meet Bots - Bots for the trading strategies.
Previous
Next
Discover SpeedBot Marketplace

SpeedBot Discover is full of pre-built trading and investment strategy bots built by expert trading strategists.
Learn More With Paper Testing Them.
Take your share of multi-million profits by either trading with bots and algorithms in the SpeedBot Marketplace or hiring bots by Creators. Find the bot that suits you best, challenge them to a test, and when convinced hit the start button for automatic algorithmic trading.
It's Easy To Analyse The Backtested Bots!
Don't worry if you only understand the annual returns! Rest details can be explored once you start Paper Testing without Investing Real Money.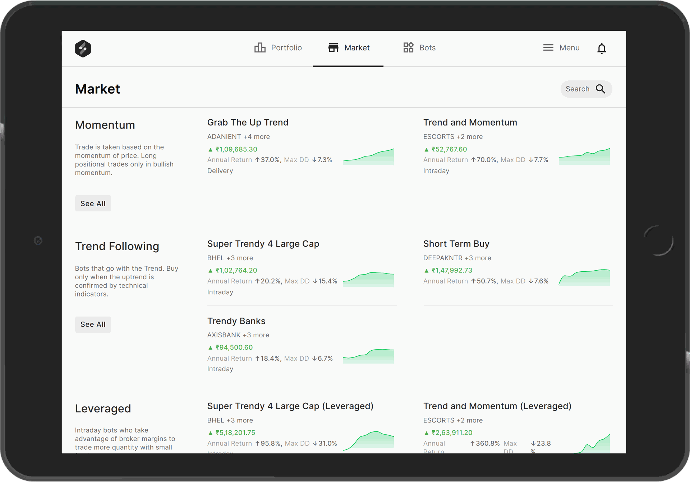 Subscribe to a Bot
With SpeedBot you can follow the best-rated Creator bots and replicate their trades by subscribing to their bots from our SpeedBot Marketplace . Trading Knowledge is really not essential.

Rent Out Your Bot
Turn your trading bot into a money-making machine. Build an efficient strategy, list it in the marketplace, and let others Hire your bot.

Benefit for Everyone
With SpeedBot we connect Creators and Followers. The Followers Hire Trade Bots that earn profit while they are away.
When a bot earns profit, the Creator gets a share of it from the Follower who has hired the bot.

New! Options TradeBots
Explore NIFTY Theta Hunters
Bots trading NIFTY Options with a safe and Market Neutral approach accumulating profits from Theta decay. These Bots are Options Neutral making slow and steady profits. NEW!!

DOWNLOAD NOW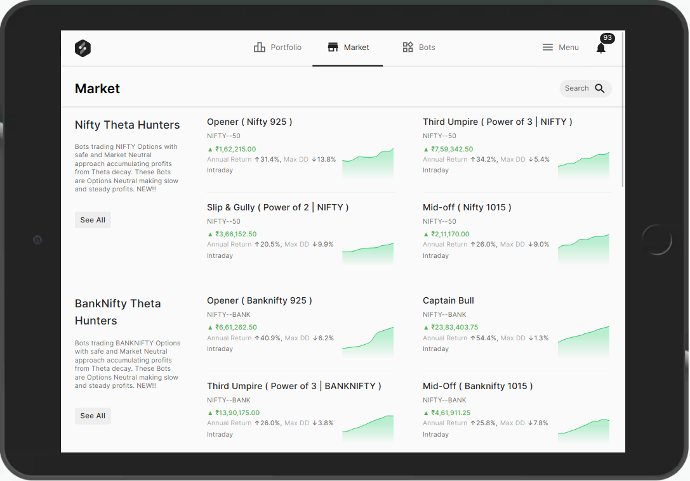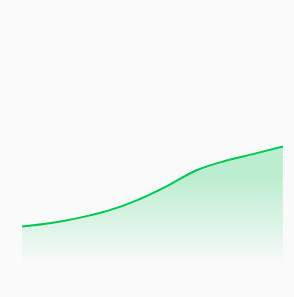 Opener ( Banknifty 925 )
NIFTY--BANK
▲ ₹6,61,262.50
Annual Return↑40.9%,Max DD↓6.2%
Intraday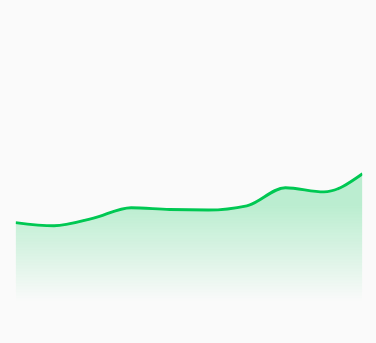 Opener ( Nifty 925 )
NIFTY--50
▲ ₹1,62,215.00
Annual Return↑31.4%,Max DD↓13.8%
Intraday

Unidirectional options writing for Nifty/BankNifty. The bot will trade 2 lots of Call & 2 lots of Put in intraday.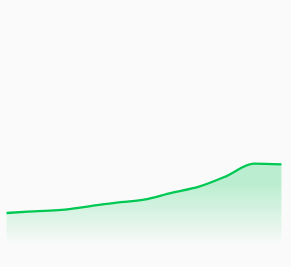 Slip & Gully ( Power of 2| BANKNIFTY )
NIFTY--BANK
▲ ₹10,20,300.00
Annual Return ↑29.7%, Max DD ↓7.1%
Intraday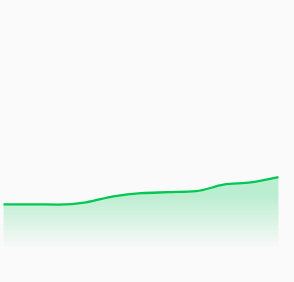 Slip & Gully ( Power of 2| NIFTY )


NIFTY--50
▲ ₹3,66,152.50
Annual Return ↑20.5%, Max DD ↓9.9%
Intraday

How Can Algo Creators Benefit?
Platform to display your Strategy building:
Apply your Strategies to a Trading Bot, Test it, and make it Live for Auto-Trading.
List your bot available on the SpeedBot Marketplace. Earn on the basis of followers subscribing to your Bot.
Generate profit by making your bot Live, and publishing it to the Marketplace

Take suggestions from your subscribers and enhance your bots accordingly.

Make money without having to put up a lot of money upfront - all that matters is your trading strategy.

We just display your bot stats, and never reveal the strategies applied to it.

Learn More - For Creators
Why would an Investor Rent a Bot?
Do not have time to build your own Bot? No worries, Just hire a bot from SpeedBot Marketplace after testing and make it Live to trade in place of you while you are away or working.
You can connect to your favorite Broker App .

Explore our marketplace with already successful bots and hire them to trade on your behalf of you .

Keep yourself updated about your Bot and connect with Creator if any issues.

Learn More - For Investors
What Is SpeedBot Marketplace?
SpeedBot Marketplace is where Traders meet Bots - Bots for the trading strategies. Browse through the Bots, categorized based on your Investment Style. Get detailed report & Analyse the Trade Bot's performance criteria and Compare.
How Can I Subscribe To A Bot?
Just go through the Bot Marketplace and Click onto your preferred Strategy. Then Clock on "Paper Trading" to subscribe the bot on PaperTrading Mode and click on "Go Live" to subscribe the bot on Live Bot.

I have been using the Speedbot Algo Trading App for more than a year now. I was impressed with the user interface and ease of trading and creating options strategies without any coding. The platform has helped me to backtest different strategies and save a lot of time as bots work for me. SpeedBot is highly recommended to anyone looking for a convenient and effective way to invest.
SpeedBot provides a user-friendly interface and the most advanced Algo Trading features. Create Option strategies and backtest option strategies with accuracy and efficiency. With its economical pricing and technical accuracy, Speedbot is definitely a must-try for traders seeking a reliable and profitable Algo Trading Platform.
SpeedBot is an excellent Algo trading platform to automate options trading. Features like create and backtest options strategies allow to create and backtest strategies with utmost accuracy. Till now SpeedBot has provided 100% accuracy and had saved a lot of time for me. Also, their support team is excellent and helped me with all the queries. Overall, I am highly satisfied with SpeedBot
Highly recommends Speedbot for its flexibility in options trading and options strategy creation. The platform's advanced algorithms can maximize returns, making investment effortless—an excellent Algo Trading Platform for all types of traders.
Want To Check The System? Register Yourself and Get a Free Trial
Join Us and start Earning Profit.
Disclaimer: The Strategic Trade Bots in the Marketplace are created and published by the respective Publishers. The Investing user should not consider it as an Investment advised by SpeedBot or its employee. Also, SpeedBot or its employee is not liable for the Wrong Order placement of the strategy due to the false integration/setup of the Broker technological platform glitch or due to the Strategy Bot creators Rules glitch which is solely designed by respective Creator/Publisher.